TURISAS received awards for Best band, Best album, Best vocalist and Best album artwork.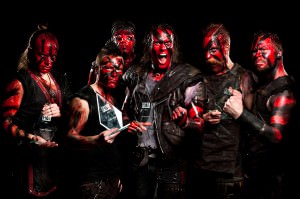 The Finnish Metal Awards, FMA, were held on on Saturday 18 February in Helsinki, Finnish Metal Expo. The best in Finnish metal were awarded for the 7th time in seven categories. Over 20,000 votes were given in open voting with no predetermined nominees.
Out of seven awards (and out of five possible ones), Hämeenlinna's battle metal originators TURISAS received four. THe band got awards for Best band, Best album ("Stand Up and Fight"), Best vocalist (Mathias "Warlord" Nygård) and Best album artwork. Even the fifth award wasn't far, as violinist Olli Vänskä placed #2 at the Musician of the Year category.
"Stand Up and Fight" debuted at #5 on the official Finnish charts in February 2011.
"What can I say – this an overwhelming honor! After all, it's a direct voting by fans; this is no back-patting promotional gala of the record industry or anything. Even if we haven't been doing gigs in Finland lately or received mainstream media attention, our fan base here is extremely supportive, dedicated and active. This kind of feedback is great and gives you faith in your own doing – especially because we've had our fair share of setbacks and hardships during our career. We've worked our asses off, but things like these make every drop of sweat worth it. Thanks go to all the people who voted us, I hope to see you at next summer's festivals!" says vocalist Mathias Nygård.