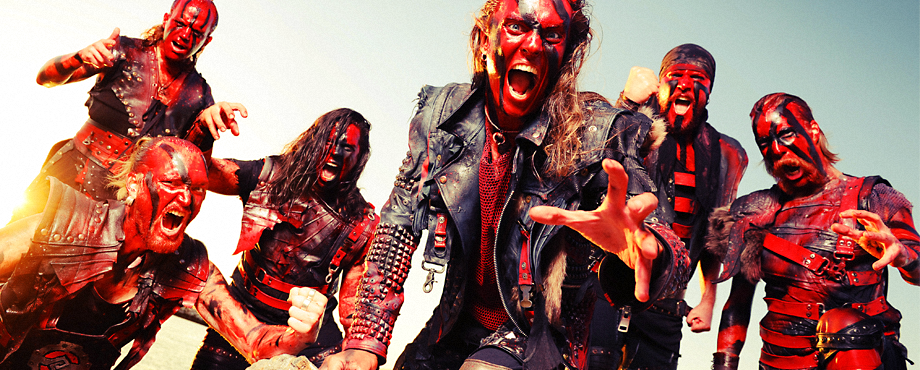 In cooperation with the online outlet of Metal Hammer UK, TURISAS have just launched a brand new video clip for the song "Ten More Miles" (produced and directed by Jukka Salo) taken from their newest album "Turisas2013":
http://www.metalhammer.co.uk/news/premiere-turisas-unleash-ten-more-miles-video/
Mathias Nygård (vocals) doesn't want to give away too much: "Times change, people change, bands change… but do they really change??"
"Turisas2013" is available in the following formats in most European countries as well as Australia/ NZ as of now:
-CD Jewelcase
-Ltd. Digipak (that comes with an alternative cover and matte/glossy print) incl. patch
-LP (180gr) + the entire album on CD
-Digital Download
-A strictly limited version of the LP+CD in orange vinyl is available via CMDistro.de
UK, France and North America will need to wait a few more days until "Turisas2013" will finally be unleashed on the following dates:
UK, France: September 2, 2013
USA/Canada: September 3, 2013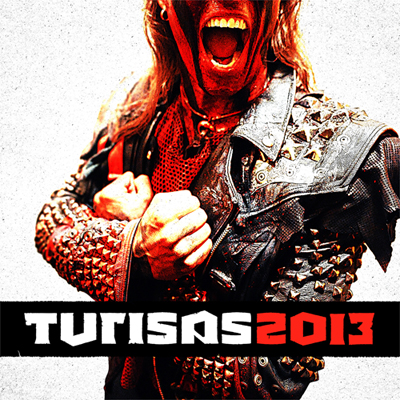 Check out some selected international media feedback for "Turisas2013":
"… Turisas2013 is a wild and wacky grab bag of impressive songcraft and eccentric imagination, with diligent performances and a punchy mix." (Metal Hammer UK)
"TURISAS is ready to surprise you once more with a varied and unique album, full of talent and Rock'n'Roll." (Metal Obs France)
"A mixture that appears to be titanically visionary is taking the reins on the 4th longplayer." (Sonic Seducer Germany)
"TURISAS' new album is neither overproduced nor monotonous and shows the maturity of the band." (Young Guitar Magazine Japan)
"With 'Turisas2013' the listener is attacked from behind." (Inferno Finland)
"The album tracks have more straightforwardness and less epic roar." (SUE Finland)
"TURISAS have thrown the same ingredients into the pot like on the previous three albums, but added new spices where the prog influences seem to emerge more clearly." (Soundi Finland)
"If you are expecting 'Battle Metal II" you will be disappointed. If you are looking for a new album, however, that reflects TURISAS as they are now, you will love 'Turisas2013'." (metalinjection.net)
"Let's cut to the chase. Turisas' "Turisas2013" is a clear contender for Album Of The Year honors. (…) Find this album. Buy it, then allow yourself to get swept up in the storytelling and bravado of it all. Then buy two copies and give them to friends." (www.bloodygoodhorror.com)
While the band was playing selected festivals during the summer season the release of "Turisas2013" will be supported by extensive European touring. After joining the Heidenfest 2013 they will play a UK headlining run.
Heidenfest 2013
TURISAS
w/ Ensiferum, Equilibrium, Suidakra + special guests (tba)
Metal Hammer, Legacy, Blast!, Musix, Noiseletter, XtraX, Metalnews present:
20.09.2013 (DE) Leipzig – Hellraiser
21.09.2013 (DE) Giessen – Hessenhallen **, ***
22.09.2013 (BE) Antwerp – Trix *, ***
23.09.2013 (F) Paris – Bataclan
24.09.2013 (DE) Saarbrücken – Garage
25.09.2013 (IT) Milan – Live Club
26.09.2013 (CH) Lausanne – Docks
27.09.2013 (DE) Geiselwind – Musichall **, ***
28.09.2013 (DE) Munich – Backstage **, ***
29.09.2013 (CH) Pratteln – Z7
30.09.2013 (DE) Hamburg – Markthalle
01.10.2013 (DE) Berlin – Postbahnhof
02.10.2013 (CZ) Zlin – Masters of Rock Cafe ****
03.10.2013 (AT) Vienna – Arena
04.10.2013 (DE) Stuttgart – LKA Longhorn **, ***
05.10.2013 (DE) Oberhausen – Turbinenhalle *, **, ***
06.10.2013 (NL) Tilburg – O13 *, ***
Extended show bands:
* Heidevolk
** Riger, Gernotshagen
*** Winterstorm
**** without Ensiferum
Check http://heidenfest.eu for more info, ticket link: http://www.hardticket.eu/
UK headlining:
08.10.2013 (UK) Bristol – The Fleece
09.10.2013 (UK) London – O2 Academy Islington
10.10.2013 (UK) Nottingham – Rock City
11.10.2013 (UK) Glasgow – Cathouse
12.10.2013 (UK) Manchester – Club Academy
Finnish co-headlining tour w/ Ensiferum
05.12.2013 (FI) Joensuu – Kerubi
06.12.2013 (FI) Oulu – Club Teatria (+ Battle Beast)
07.12.2013 (FI) Helsinki – Nosturi
13.12.2013 (FI) Vaasa – Hullu Pullo
14.12.2013 (FI) Seinäjoki – Rytmikorjaamo
VIP Meet&Greet packages available for all the shows at Shopify
TURISAS online:
http://www.turisas.com/
https://www.facebook.com/turisas
https://twitter.com/turisasofficial
http://www.youtube.com/turisasofficial