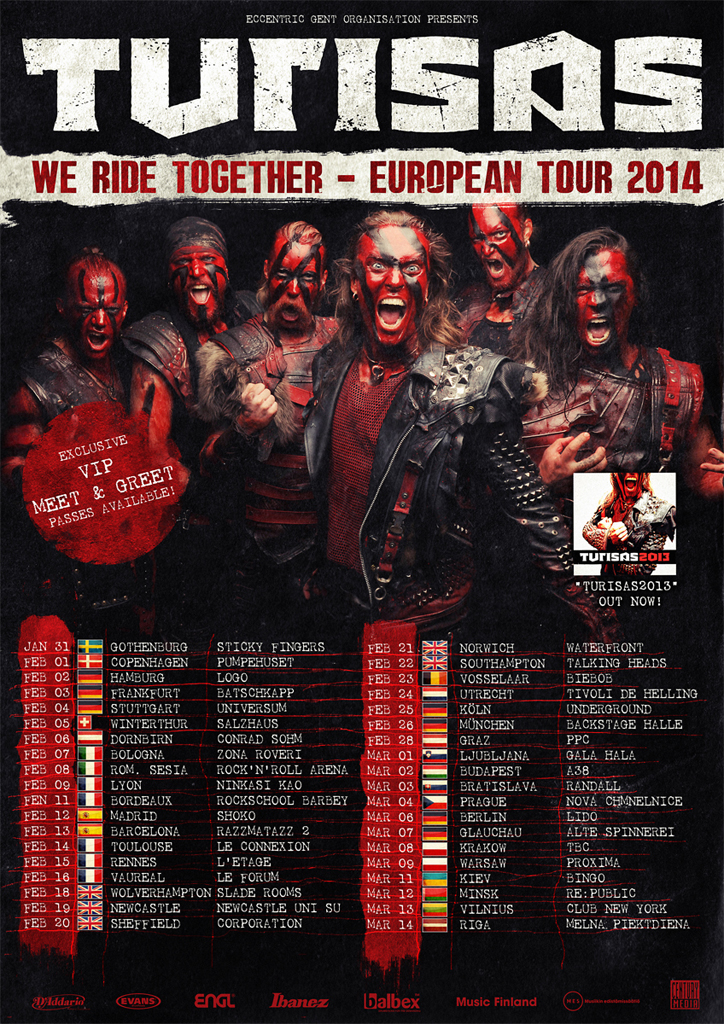 We just added two dates in Russia for March 2014:
3/29 – Moscow, RU @ Hall Club
3/30 – St. Petersburg, RU @ Zal Ozhidaniya Club
All the tickets for the European tour 2014 are now on sale. Check out the dates on BandsInTown & Turisas.com tour schedule.
Don't forget the VIP meet & greet chance! Get your exclusive package from our webshop at Shopify and meet the band before the gig.
TURISAS
We Ride Together – European Tour 2014
31.01.2014 (SE) Gothenburg – Sticky Fingers
01.02.2014 (DK) Copenhagen – Pumpehuset
02.02.2014 (D) Hamburg – Logo
03.02.2014 (D) Frankfurt – Batschkapp
04.02.2014 (D) Stuttgart – Universum
05.02.2014 (CH) Winterthur – Salzhaus
06.02.2014 (A) Dornbirn – Conrad Sohm
07.02.2014 (I) Bologna – Zona Roveri
08.02.2014 (I) Romagnano Sesia – Rock'n'Roll Arena
09.02.2014 (F) Lyon – Ninkasi Kao
11.02.2014 (F) Bordeaux – Rockschool Barbey
12.02.2014 (ES) Madrid – Shoko
13.02.2014 (ES) Barcelona – Razzmatazz 2
14.02.2014 (F) La Rochelle – La Sirene Club
15.02.2014 (F) Rennes – L'Etage
16.02.2014 (F) Vaureal – Le Forum
18.02.2014 (UK) Wolverhampton – Slade Rooms
19.02.2014 (UK) Newcastle – Newcastle Uni SU
20.02.2014 (UK) Sheffield – Corporation
21.02.2014 (UK) Norwich – Waterfront
22.02.2014 (UK) Southampton – Talking Heads
23.02.2014 (B) Vosselaar – Biebob
24.02.2014 (NL) Utrecht – Tivoli de Helling
25.02.2014 (D) Cologne – Underground
26.02.2014 (D) Munich – Backstage Halle
28.02.2014 (A) Graz – PPC
01.03.2014 (SLO) Ljubljana – Gala Hala
02.03.2014 (H) Budapest – A38
03.03.2014 (SK) Bratislava – Randall
04.03.2014 (CZ) Prague – Nova Chmnelnice
06.03.2014 (D) Berlin – Lido
07.03.2014 (D) Glauchau – Alte Spinnerei
08.03.2014 (PL) Krakow – TBC
09.03.2014 (PL) Warsaw – Proxima
11.03.2014 (UA) Kiev – Bingo
12.03.2014 (BY) Minsk – Re:public
13.03.2014 (LT) Vilnius – Club New York
14.03.2014 (LV) Riga – Melna Piektdiena
29.03.2014 (RU) Moscow – Hall Club
30.03.2014 (RU) St. Petersburg – Zal Ozhidaniya Club
Before the end of the year TURISAS will also tour their native Finland together with fellow countrymen Ensiferum:
05.12.2013 (FI) Joensuu – Kerubi
06.12.2013 (FI) Oulu – Club Teatria
07.12.2013 (FI) Helsinki – Nosturi
13.12.2013 (FI) Vaasa – Hullo Pullo
14.12.2013 (FI) Seinajoki – Rytmikorjaamo
TURISAS online:
http://www.turisas.com/
https://www.facebook.com/turisas
https://twitter.com/turisasofficial
http://www.youtube.com/turisasofficial