#turisas2013
Turisas' new album "Turisas2013" is scheduled for a release August 26 in Europe. UK will follow September 2 and North America September 3.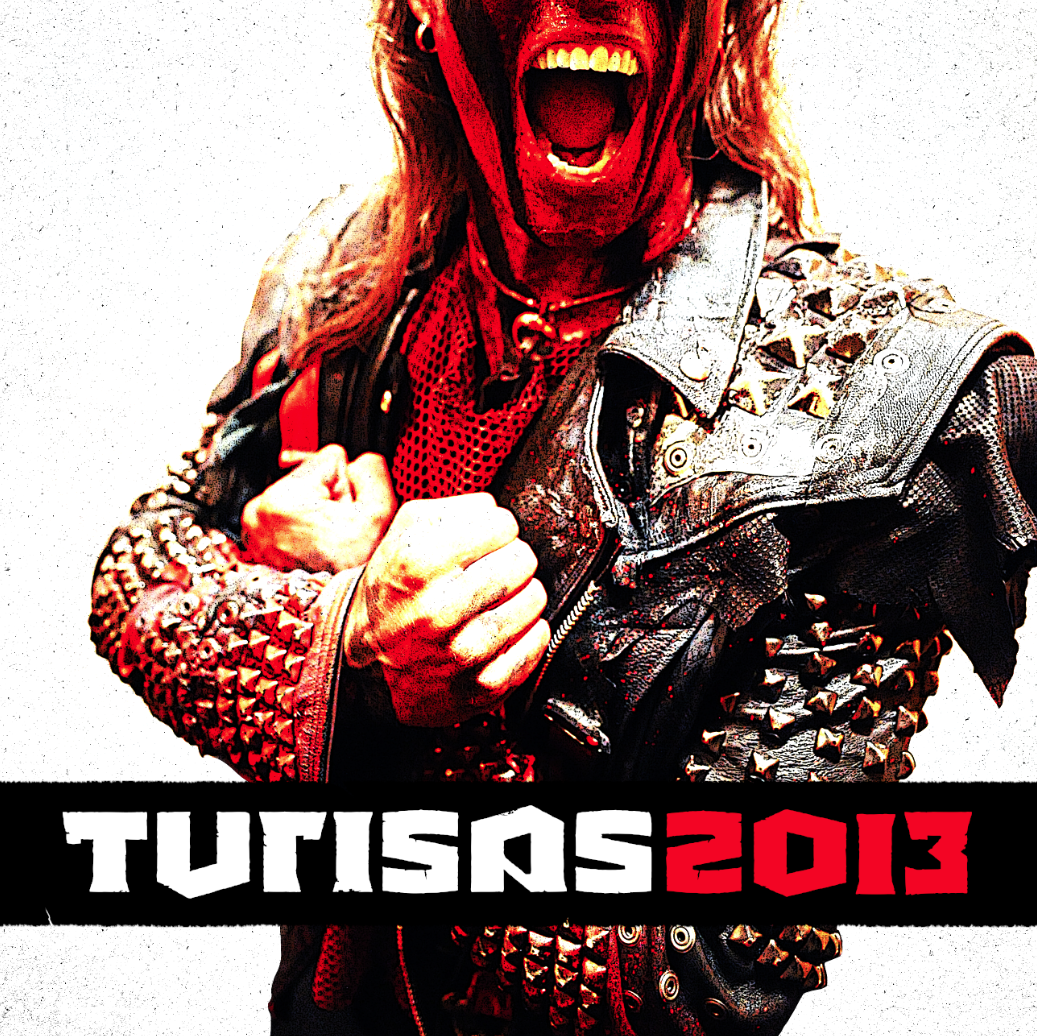 Yet again the album was produced by vocalist Mathias Nygård and the majority of the album recorded by Mathias Nygård and guitarist Jussi Wickström in a remote house outside of Helsinki that worked as the "Turisas2013" command centre and head quarter. Additional recordings were done in 3 other studios: the drums at Atomic Spa Studio and orchestral recordings at 5 by 5 Studio, both in Helsinki. A lot of vocals and numerous additional acoustic elements were recorded at Sound Supreme Studio in Hämeenlinna where TURISAS also recorded "The Varangian Way" and "Stand Up And Fight".
With "Turisas2013" the band deliberately aimed for a more organic sound, Mathias "Warlord" Nygård further comments: "When it comes to the production it's just the opposite of the polished and massive 'Stand Up And Fight'. It's raw and dry and in your face, but still maintaining that TURISAS-largeness. People attest us that we are a great live band and we wanted the album to be based more around that than orchestral massiveness. It's our most varied record to date and even if some of the songs sound very different, I think the common thread is that every single one has a lot of energy to it."
The mix and mastering was done by London based producer Jaime Gomez Arellano who previously worked with Ghost, Primodial and Ulver, just to name a few.
While the band will be playing selected festivals during the summer season the release of "Turisas2013" will be supported by extensive European touring and TURISAS joining the Heidenfest 2013.
VIP meet & greet tickets available for all the tour dates at https://turisas.myshopify.com/
TURISAS live:
21.06.2013 (PL) Jaworzno – Metalfest Open Air Poland
22.06.2013 (DE) St. Goarshausen / Loreley – Metalfest Germany
23.06.2013 (LIT) Varniai – Kilkim Zaibu
24.07.2013 (SLO) Tolmin – Metaldays
25.07.2013 (DE) Chemnitz – Rock im Betonwerk
26.07.2013 (DE) Oberalfingen – Betonwerk
17.08.2013 (SE) Falun – Sabaton Open Air
31.08.2013 (DE) Crispendorf – Wolfszeit Metal Open Air
HEIDENFEST 2013
Presented by Metal Hammer, Legacy, Musix, Noizeletter, XtraX, Metalnews & BLAST!
Ensiferum
Turisas
Equilibrium
Suidakra
+ special guest (tba)
EXTENDED SHOW BANDS:
Heidevolk (*)
Riger (#)
Gernotshagen (#)
Winterstorm (@)
20.09.2013 DE – Leipzig, Hellraiser
21.09.2013 DE – Giessen, Hessenhallen Extended #@
22.09.2013 BE – Antwerp, Trix Extended *@
23.09.2013 FR – Paris, Bataclan
24.09.2013 DE – Saarbrücken, Garage
25.09.2013 IT – Milano, Live Club
26.09.2013 CH – Lausanne, Docks
27.09.2013 DE – Geiselwind, Musichall Extended #@
28.09.2013 DE – München, Backstage Extended #@
29.09.2013 CH – Pratteln, Z7
30.09.2013 DE – Hamburg, Markthalle
01.10.2013 DE – Berlin, Postbahnhof
02.10.2013 CZ – Zlin, Masters of Rock Cafe /without Ensiferum
03.10.2013 AT – Wien, Arena
04.10.2013 DE – Stuttgart, LKA Longhorn Extended #@
05.10.2013 DE – Oberhausen, Turbinenhalle Extended *#@
06.10.2013 NL – Tilburg, O13 Extended *@
Live Nation presents:
TURISAS UK HEADLINE TOUR
+ special guests
08.10.2013 UK – Bristol, The Fleece
09.10.2013 UK – London, 02 Academy Islington
10.10.2013 UK – Nottingham, Rock City
11.10.2013 UK – Glasgow, Cathouse
12.10.2013 UK – Manchester, Club Academy
Tickets online at Ticketmaster.co.uk // Livenation.co.uk