12/23/2012 EDIT: New show in Curitiba, Brazil on 15 March 2013! Also: Chile show has a new date – it is now 13 March 2013 http://www.ckconcerts.com/ and TOUR DATES

Los maestros del Battle Metal Finlandés, TURISAS, se enorgullecen de anunciar su primera gira por América Latina. La banda realizará ocho conciertos en marzo de 2013, incluyendo fechas en México, Costa Rica, Colombia, Argentina, Chile y Brasil.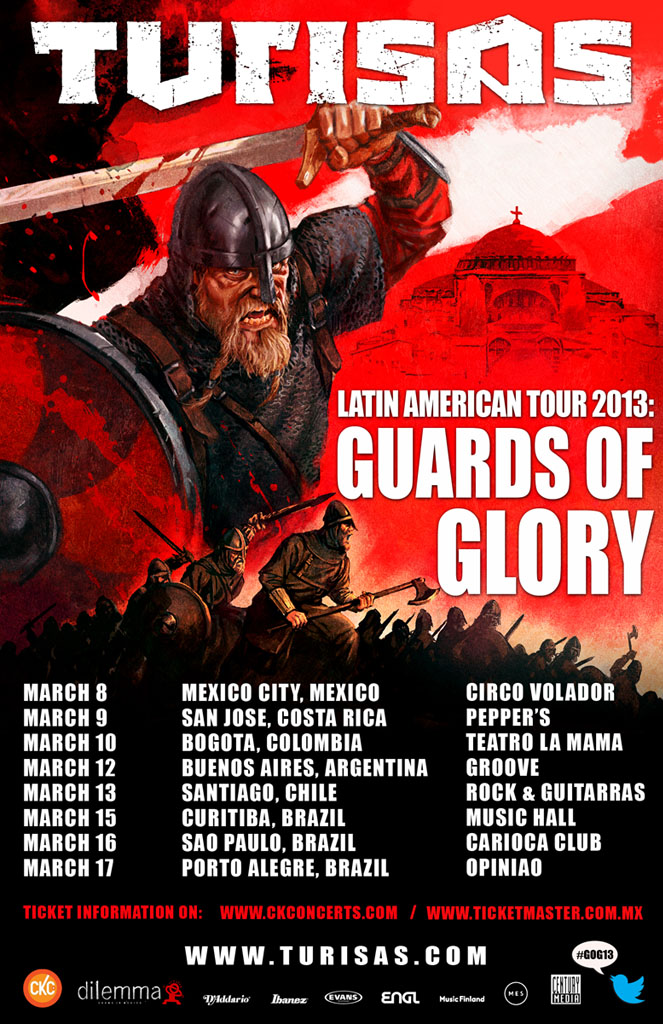 Mathias "Warlord" Nygård
comenta directamente desde el estudio:
"¡Por fin va a ocurrir!. Hemos estado esperando este momento durante mucho tiempo, y no podríamos estar más contentos de este anuncio. Durante los últimos años, cada vez que colgábamos algo en alguna red como Facebook, uno de los primeros comentarios era siempre "venid a Chile", bueno, pues ahí lo tenéis, ¡ahora sí que vamos para allá!. Amamos la dedicación de los fans de allí y creemos que estos conciertos serán una recompensa por la larga espera. Hermanos y hermanas, ¡preparaos para una fiesta brutal!".
***
La gira completa es la siguiente:
TURISAS: Latin American Tour 2013
GUARDS OF GLORY
08.03.2013 (MX) Mexico City – Circo Volador
09.03.2013 (CR) San Jose – Pepper's
10.03.2013 (CO) Bogota – Teatro La Mama
12.03.2013 (AR) Buenos Aires – Groove
14.03.2013 (CL) Santiago – Rock & Guitarras
16.03.2013 (BR) Sao Paulo – Carioca Club
17.03.2013 (BR) Porto Alegre – Opiniao
En colaboración con CKConcerts & Dilemma
Información sobre entradas en: www.ckconcerts.com / www.ticketmaster.com.mx
Argentina, Chile y Brazil están a la venta desde ayer.
Bogota sale a la venta el 10 de noviembre.
Hashtags oficiales de Twitter: #GOG13 // #Turisas2013
***
TURISAS han entrado recientemente en el estudio localizado en medio de los bosques finlandeses para preparar su nuevo disco, que se espera para la segunda mitad de 2013 y que verá la luz a través de Century Media. Será la continuación de su increíble "Stand Up And Fight" (2011).
TURISAS online
http://www.turisas.com/
http://www.facebook.com/turisas
http://twitter.com/turisasofficial
Studio blog available at http://www.youtube.com/turisasofficial
Century Media Records online:
http://www.centurymedia.com
http://www.myspace.com/centurymediaeurope
http://www.youtube.com/centurymedia
http://twitter.com/centurymediaeu
http://www.facebook.com/centurymedia
http://gplus.to/centurymedia
Century Media webshop: http:/www.cmdistro.com