Edit: We're also offering a strictly limited number of VIP Meet & Greet passes for all the shows in North America. More info about the passes at http://turisas.myshopify.com/
TURISAS announces North American headlining tour with FIREWIND, STOLEN BABIES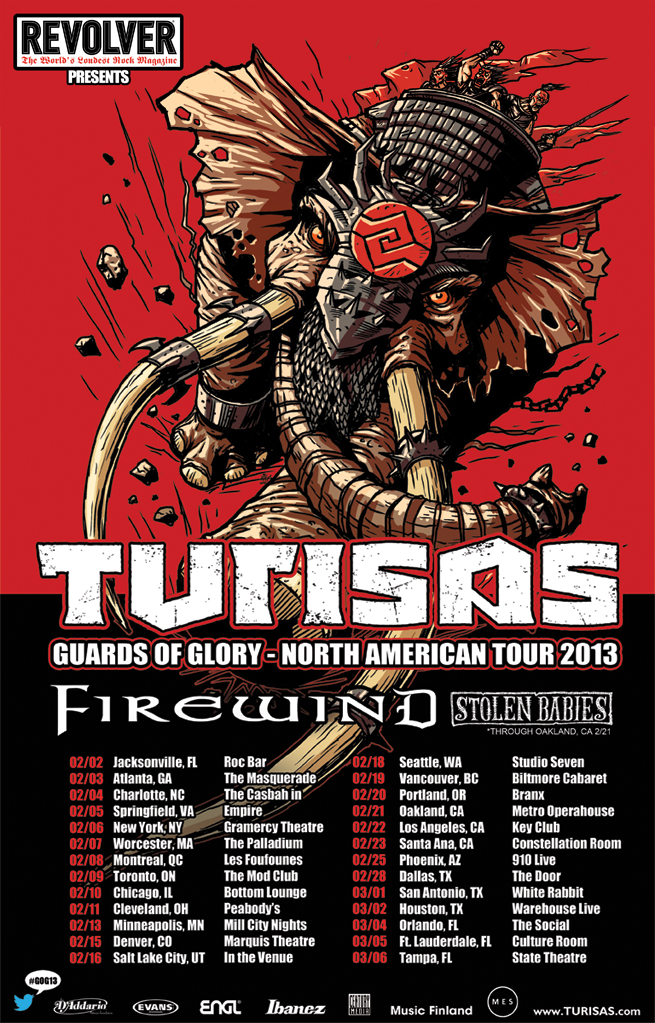 Battle metallers
TURISAS
will be returning to North America in February/March 2013 for a headlining tour featuring
FIREWIND
and
STOLEN BABIES
as special guests!
In regards to the trek, the band comments:
"Back to America straight out of the studio! We've spent the last six months off the road writing some new killer tunes and are just about to start recording them as we speak. The great memories from our previous tour last spring is making us even more excited to hit the road again after this long break. We're coming up with new cool and crazy ideas for this tour, and who knows, maybe we'll even try out and premiere some completely unreleased new material. One thing is certain, after 9 months off the road there'll be some serious energy to be released on stage! Serve us your weakest piss-light beer! We'll take it! America here we come!"
Hailing from Finland, TURISAS is currently finishing work on their latest studio album, which they are looking to release in summer 2013. See below for a list of tour dates (with more to be announced soon!):
"Guards of Glory – North American Tour 2013" – TURISAS with special guests FIREWIND, STOLEN BABIES
Sat/Feb-02 – Jacksonville, FL – Roc Bar
Sun/Feb-03 – Atlanta, GA – The Masquerade
Tue/Feb-05 – Springfield, VA – Empire
Wed/Feb-06 – New York, NY – Gramercy Theatre
Thu/Feb-07 – Worcester, MA – The Palladium
Fri/Feb-08 – Montreal, QC – Les Foufounes Électriques
Sat/Feb-09 – Toronto, ON – The Mod Club
Sun/Feb-10 – Chicago, IL – Bottom Lounge
Mon/Feb-11 – Cleveland, OH – Peabody's
Wed/Feb-13 – Minneapolis, MN – Mill City Nights
Fri/Feb-15 – Denver, CO – Marquis Theatre
Sat/Feb-16 – Salt Lake City, UT – In the Venue
Mon/Feb-18 – Seattle, WA – Studio Seven
Tue/Feb-19 – Vancouver, BC – Biltmore Cabaret
Wed/Feb-20 – Portland, OR – Branx
Thu/Feb-21 – Oakland, CA – Metro Operahouse
Fri/Feb-22 – Los Angeles, CA – Key Club*
Sat/Feb-23 – Santa Ana, CA – The Constellation Room*
Mon/Feb-25 – Tempe, AZ – 910 Live*
Thu/Feb-28 – Dallas, TX – The Door*
Fri/Mar-01 – San Antonio, TX – White Rabbit*
Sat/Mar-02 – Houston, TX – Warehouse Live*
Mon/Mar-04 – Orlando, FL – The Social*
Tue/Mar-05 – Ft. Lauderdale, FL – Culture Room*
Wed/Mar-06 – Tampa, FL – State Theatre*
*=TURISAS and FIREWIND only

A special VIP Meet & Greet package is available for all the shows. For full details, please see http://turisas.myshopify.com/

Fans can also see TURISAS before their "Guards of Glory – North American Tour 2013" on the heavy metal cruise, 70 000 Tons Of Metal, which kicks off on January 28th in Florida. For more information about 70,000 Tons Of Metal, please visit: http://70000tons.com
In addition to previewing material from their upcoming release, TURISAS will be touring in support of their latest release, Stand Up And Fight, which is available for purchase at CM Distro here and at iTunes here.
Read on for a few reviews of TURISAS and Stand Up And Fight:
"[TURISAS] play rampaging anthems that angry up the blood and their ardent fans, like their heroes, aptly turn up to shows wielding axes and baring skin ready for the fight." — THE NEW REVIEW.net
"TURISAS plays a rousing brand of pagan, folk and symphonic metal that's melodic and catchy, and also has a lot of atmosphere." — HEAVY METAL.ABOUT.com
"Full of chants, symphonic elements, narrations, and tales of lore and war, [TURISAS'] newest album, 'Stand Up And Fight,' is the soundtrack to a glorious battle." — HEAVY BLOG IS HEAVY.com
Press opportunities for TURISAS are available, so please contact nikki.law@centurymedia.com to schedule!
TURISAS online:
http://www.turisas.com/
http://www.myspace.com/turisasofficial
http://www.facebook.com/turisas
http://www.twitter.com/turisasofficial // hashtags #turisas2013 and #GOG13