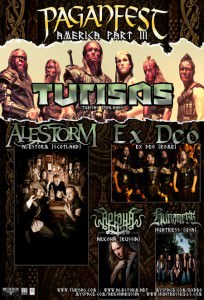 OK, time to make it official and confirm the rumours: Turisas will be headlining the 2012 version of PaganFest America. We will be joined by Alestorm (Scotland), Ex Deo (Italy), Arkona (Russia) and Huntress (USA).
In regards to the upcoming tour, frontman Mathias Nygard comments:
"It took time but finally we had a chance to make it back to North America. After many successful tours there with acts like Cradle of Filth and Dragonforce during the past few years, it's great to return as a headliner. This is a killer combo with great variety – some of the most twisted acts of the folkier side of metal! Be prepared for a great night out – I expect to witness some crazy audiences!"

So don't miss out! Check the dates below to see when TURISAS and PaganFest will be coming to a city near you.
The tour kicks off on March 29th in Baltimore, MD and wraps up a few weeks later in Los Angeles. Here is the full routing (updates possible):
3/29 – Baltimore, MD @ Sonar

3/30 – Worcester, MA @ Palladium

3/31 – New York, NY @ Gramercy Theatre

4/1 – Montreal, QC @ Club Soda

4/2 – Toronto, ON @ The Opera House

4/3 – Cleveland, OH @ Peabody's

4/4 – Detroit, MI @ Blondie's

4/5 – Chicago, IL @ Reggie's Rock Club

4/6 – Saint Paul, MN @ Station 4

4/7 – Louisville, KY @ Vernon Club

4/8 – Charlotte, NC @ Tremont Music Hall

4/9 – Atlanta, GA @ The Masquerade

4/11 – Dallas, TX @ Trees

4/12 – Lubbock, TX @ Jake's

4/13 – Denver, CO @ The Marquis

4/15 – Seattle, WA @ Studio Seven

4/16 – Portland, OR @ Hawthorne Theatre

4/17 – San Francisco, CA @ DNA Lounge

4/18 – West Hollywood, CA @ Key Club
4/19 – Tempe, AZ @ 910 Live *Without Alestorm*
More info:
www.turisas.com
www.myspace.com/turisasofficial
www.facebook.com/turisas
www.twitter.com/turisasofficial
www.rockthenationusa.com